DBX Recovery Solution for Making Outlook Express Files Alive
DBX files are allocated with fixed storage limits, so when the files exceed its prescribed limitation, it becomes corrupt. Since corruption in a single file could affect the entire Outlook Express mailbox database, so DBX recovery becomes important to gain access over these files. Likewise, any other data files they are also prone to corruption and any sort of damage leads to inaccessibility across the files.
There are many other reasons as well that brings these files to inaccessible mode such as abrupt close down of respective email application, improper system shut down, virus or Trojan infections, and many more. However, whatever be the reason behind corruption, Outlook Express Restore software is a reliable tool for quicker recovery.
Unique Features Embedded Within Revolutionary Toolkit
There are some fabulous traits, the tool is assembled with and these attributes are summed up here in:
Recover Corrupt DBX Files: The file recovery utility helps in recovering corrupt files and hence making them accessible. The advance programming algorithm results in extracting all recoverable data from corrupt files and save it to disk at the user selected location.
Multiple File Formats Available: While DBX Recovery process, the software offers to restore recovered data in either of given file formats from EML, RTF, MSG, PST and DBX. Advance scans mechanisms help included for recovering highly corrupted Outlook Express files and stores them as EML on disk.
Performs Batch Processing: For processing corrupt files in bulk at a same time, it allows to add either a folder with multiple files or multiple numbers of files to be processed altogether. Executing recovery of batch files helps to save time when there are numerous corrupt files exist.
Displays File Particulars: When a file is added, it begins gathering information about it and displays them in the tool panel such as file name, file size and the date it was created on with time particulars. This helps repairing files as per size limitation, if there is limited disk space available.
Maintains Actual Structure: When you repair Outlook Express DBX files and restores them into available file formats, all the attributes, formatting as well as attachments remain unchanged. The integrity of data is preserved and all the associated items of an email are converted with accuracy.
Recovers Deleted DBX Email & Items: Apart from recovering corrupt files, it also recovers deleted data from mailbox database files or 'Deleted Items' folder. It fetches all permanently deleted data and restores it back on the machine while preserving its integrity and security.
Demo versus Full Version

Demo version of the tool is programmed to enable you repair up to 15 emails from corrupt files and allow you to restore them into each given file format whereas full version enable you to recover limitless OE damaged files.
Perform Multiple Conversion !
Support Section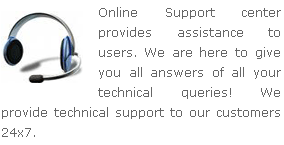 Support Section